Mook's Thai Mookata BBQ.
Address: 2 Liang Seah Street, Bugis, Singapore.
On one of the running nights with my friends in Singapore's city area, we stopped by Bugis for our dinner, just a short walk from my friend's house. We walked around the food street at Liang Seah Street where many of the restaurants are selling steamboat located and we decided to try the set meal of 4 person at the Mook's Thai Mookata BBQ.
We were greeted at the main door and there was no crowd when we entered the restaurant at 9PM. We seated at the center of the restaurant so it was quite easily to reach the waiters for food ordering.
Then, the waiter showed us the menu and we decided to go with our initial plan of ordering the set meal. The waiter asked whether we have any of the ingredients of the set meal that we were not eating. It is kind of waste if we did not eat and still order it. Well, it was only me who did not take the pig liver so we did not change anything from the set meal and the guys wanted to have rice, we added two bowls of rice. We did not order drink. The waiting time to be served is reasonable, judging by the crowd when we were there.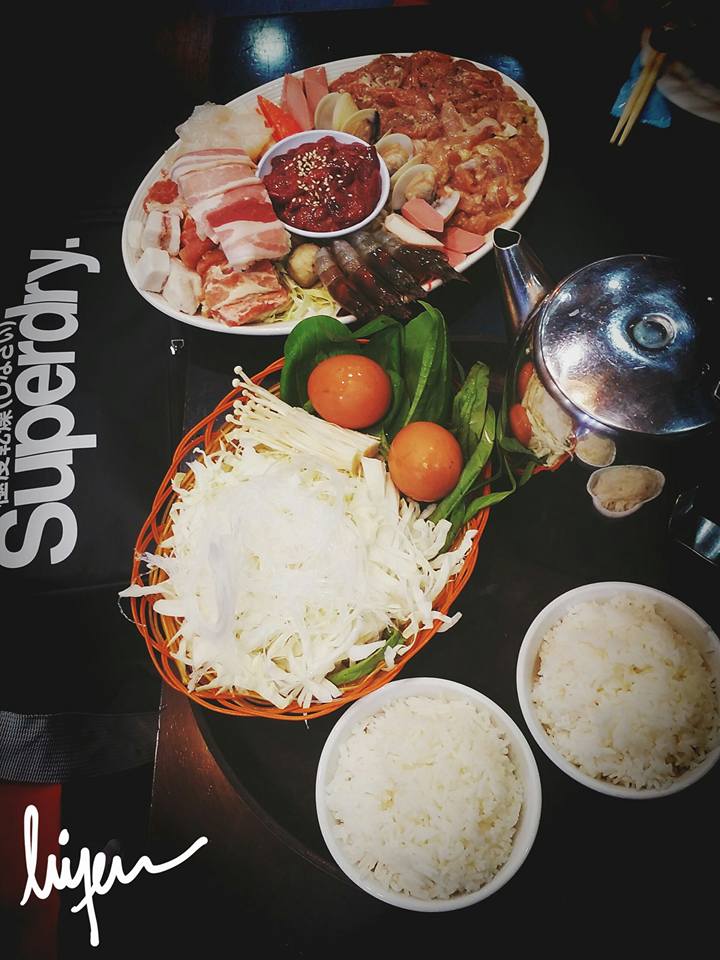 The first picture of the food served on our table. It looks pretty reasonable portion of meats and vegetables, two bowls of rice and a jug of the soup broth. Nicely presented with the side background of my friend's bag, SuperDry.
Let me show you the closed up picture of the meat.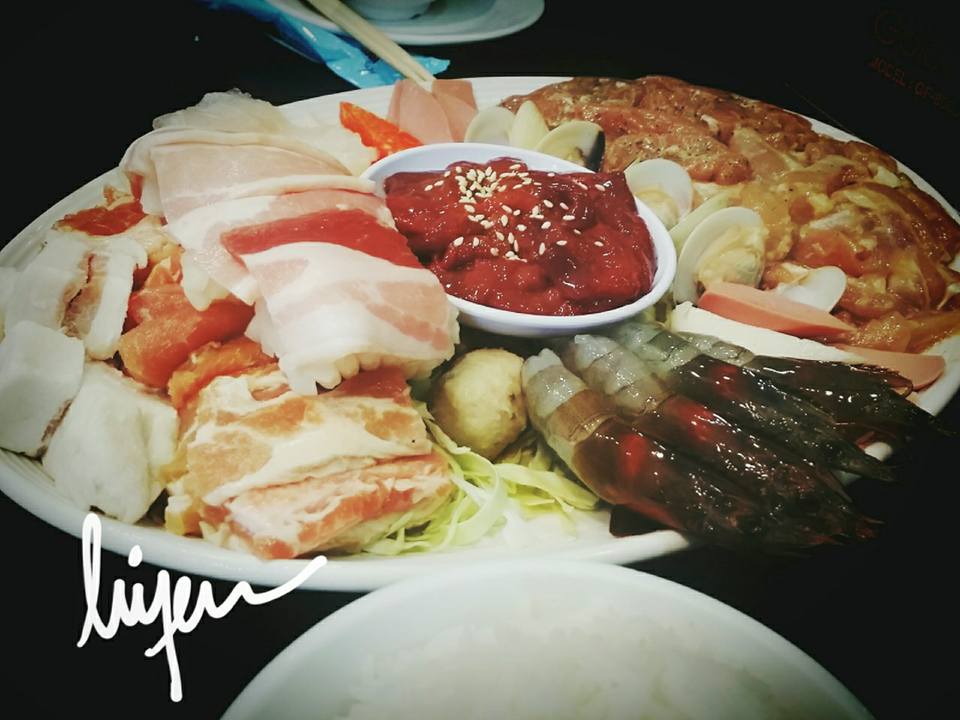 The waiter told us to grease it first before start grilling our meat. It is not easy to work on it especially using the small tongs. After we managed to grease it well enough, we placed our meat on top and the clams, meatballs, crabmeats and sausages on the soup to start cooking.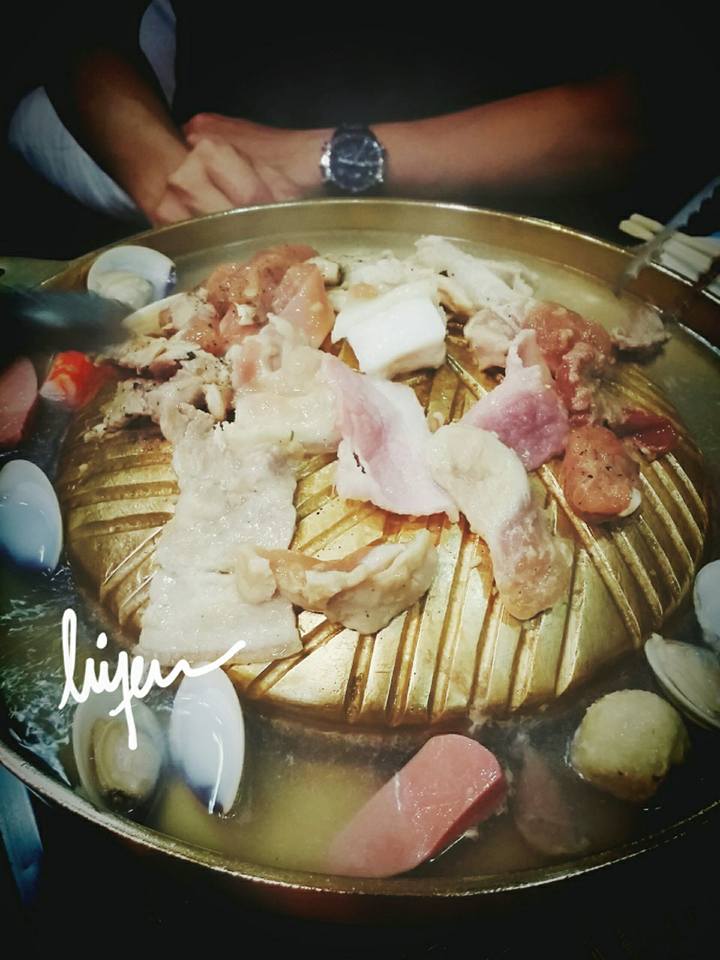 Then, added the vegetable and we started eating. We have to occasionally grease the grill area as it easily turned brown and it would be harder to grill our meat later. Besides that, we have to add the soup broth constantly too. For this set meal, we can easily grill it for three or four rounds with all the basic ingredients that we ordered.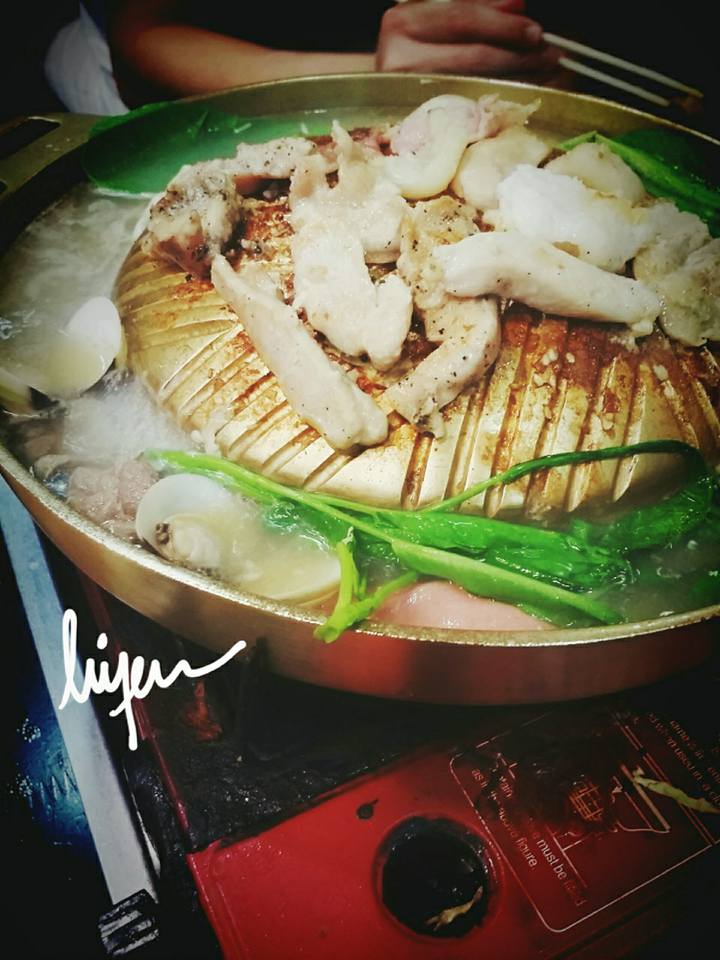 We can add the clams and prawn head to make the soup sweeter along with the cabbage. Lucky that this group of friends are omnivores, we ate everything that they served on the plates. Maybe, we were hungry back then.
Lastly, we put in the noodle and cooked it with the remaining soup broth. The soup is sweet and tasty, just a little oily because of the oil from the grilled meats. We almost finished the soup 🙂