Lists are straightforward type of data structure, by using list().

Syntax: list(vector, val2, …)
Lists:
– Store an ordered collections of objects.
– It can contain different data types, works like a container without restriction.

#Define a list with vector, floating number and function, sin.
list <- list(c(2,3,5), 31.7, sin)

The output on my console shows,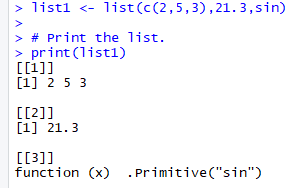 Three different elements list on the console.
Another example of using list was in my previous blog on Matrix, where I define the dimnames using list in the example.

The rownames and colnames are vectors which contain the names of the rows and columns.
I do not have many example using list() especially on how to access the elements of the list. However, I believe it should be able to retrieve the elements similarly to other programming languages by using the indexes and square brackets. I will give an update on that later.