During this circuit breaker period in Singapore, many of us are trying our hand to do some home-cooked food for the family. And, I am trying to improve my cooking skill too. There is a lot of recipes being shared by people since I joined the home-cooked Facebook group. Previously, I shared how I prepared the Thai Pad Woonsen.
Western Style
This blog shares how I prepared the honey garlic salmon. It is an easy recipe, and the ingredients are easy to get. Most importantly, it takes 15 minutes to make a salmon ready for dinner. Please refer below reference link for the recipe.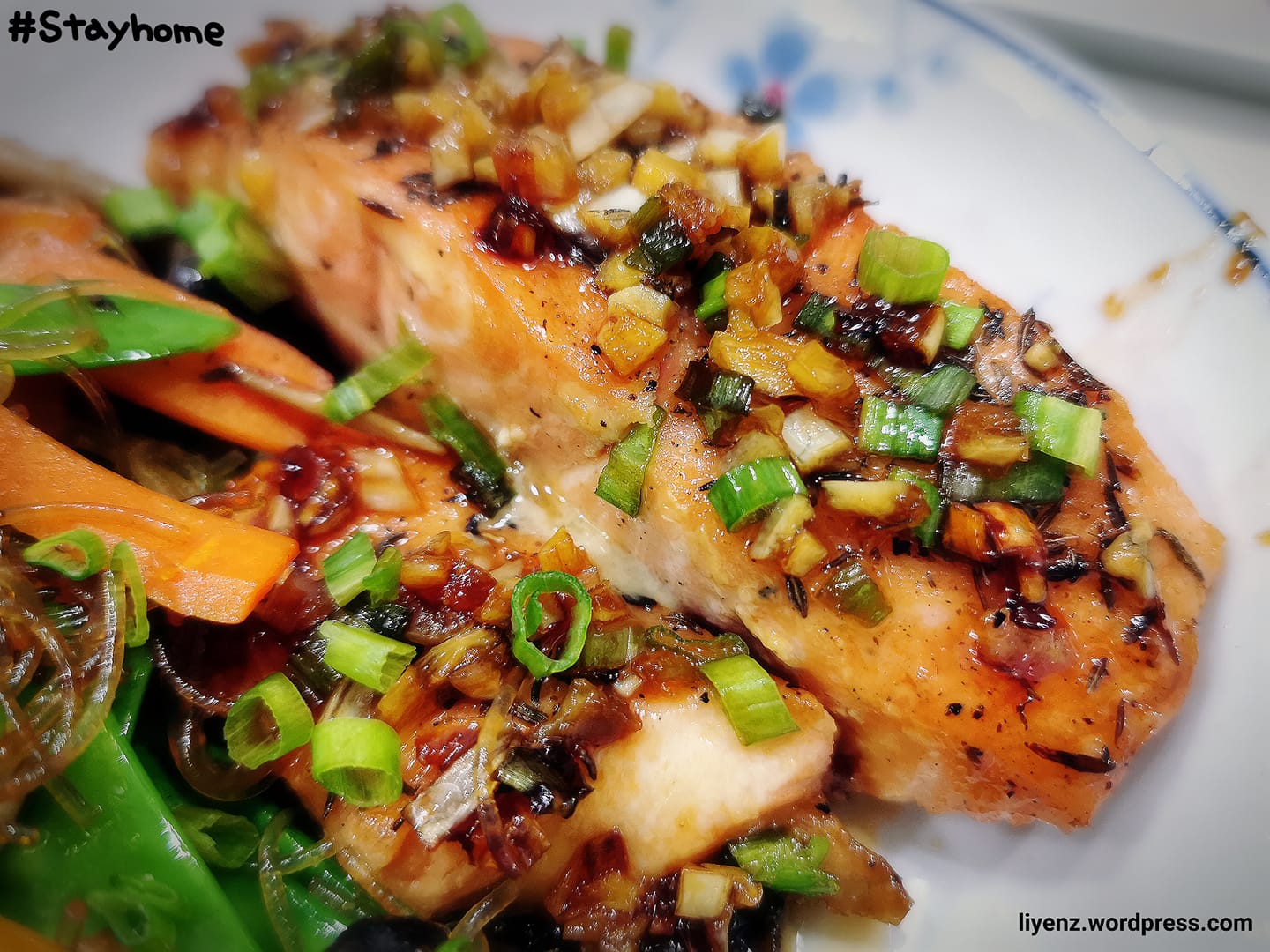 Ingredients
You can buy the salmon fillet from the supermarkets or wet markets, and cut them into two or three portions depending on the size of the salmon. Next, I prepared the sauce that consisted of the following:
2 tablespoons of honey.
1 1/2 tablespoons of apple cider vinegar.
1 tablespoon of olive oil.
a pinch of salt and some pepper.
1 tablespoon of warm water.
3 garlic cloves, finely chopped.
I mixed all the above in a saucer, and chopped some spring onion, to replace the parsley. For the salmon, I marinated it for about 30 minutes with salt and pepper. The salt and pepper are the basic ingredients to marinate salmon. If you like a flavourful salmon, you can add other spices before start pan-frying it.
Start Cooking
Heat up the pan on high-heat and add some oil on the pan to pan-fry the salmon. Always wonder, which side I should put first. The answer is skin side down first. Let it pan-fry for about a minute, you can slowly see it turning its colour. After a minute, I turned the salmon over and cooked for another minute. And, again I turned the salmon over after both sides cooked.
Next, I added the garlic together with the honey mixture, saute until garlic until the brownish colour, and the honey mixture turned thicker. It took me for about 10 minutes to complete the cooking under medium-high heat. After that, I off the fire and added some spring onions on top of the salmon, Served it on the plate while it is still hot.
My verdict
I liked the thickened honey garlic sauce and the burned garlic. Although I did not follow precisely the recipe to add the lemon into the pan while sauteing, the taste was just right to my tastebud, and the salmon was evenly cooked. It is a simple and delicious recipe that everyone can follow. Please try it yourself with the recipe below.