The pretty new cafe which is located at Lavender Street, occupies the corner shop lot, fully white-based design with a large bar table at one side, a few small tables somewhere along with the large windows. The Apartment Coffee's environment in the cafe is quite quiet, simple yet elegant. They do play some background music and the noise level is quite minimal, making it a good place to spend the day having a cup of coffee or tea alone or with one or two friends.

It is not recommended to go with a large group of friends as the seats are limited. You can google the place and check out the interior design of the cafe as I did not take any pictures in the cafe except for my cup of coffee.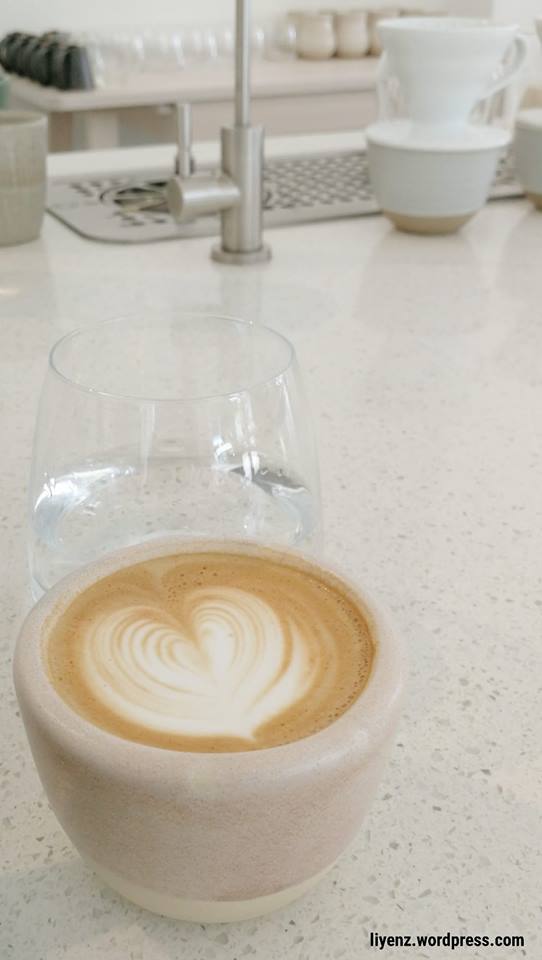 Coffee with milk from Colombia El Mirador coffee beans.
Their menu is quite simple, with a minimal selection so I did not ask for any recommendations from the counter and I chose to try Colombia El Mirador coffee with milk. The fragrance that comes from the coffee beans during the preparation of my cup of latte truly made my brain more alert. I guess it should be the berries smell which tastes fruity sweet.

The coffee serves in the ceramic made tea-cup sized, a pretty different presentation and it has only one single size for a hot drink. My first impression upon seeing the cup of coffee was "woah, the small cup does it mean it is very gao (strong)?"

Perhaps, some of us, especially those who do not go to cafes often, may find a cup of coffee costs more than a bowl of noodles or a plate of rice, is expensive, and always can get a cheaper one costs us a dollar and still can ask for kopi gao (strong coffee), why to want to spend so much. Haha.

There is one thing I learned about coffee, it is not about the price that makes coffee different. It is the process of roasting coffee beans to the preparation of a cup of coffee, how much water to put in, how much beans to use, how long to brew it is different per different batches of seasonal coffee beans.

Any comments?

I noticed a few food bloggers in Singapore have written reviews about this cafe. It is glad to find out the owner of this cafe is a former Singapore Brewer Champion who is also one of the baristas working there. Also, I noticed they love to talk with the customers, perhaps, is their friends too.

Address: 161 Lavender Street #01-12 Singapore 338750.