I have been trying to blog differently recently by having a theme. To support local Singaporean hawker food, I set up a new theme called Singapore Hawker Food, tried out the local food shared by Singaporeans on social media and shared my opinions. I am sure you are the same as me, would like to know the views from a non-food blogger's or Youtuber's point of view.
I am glad that one or two people are willing to eat with me so that I can try different food and give more food reviews. I wish we could continue to try more food together and share our thoughts. Also, I am happy whenever we are together enjoying our food.
I may be active on Instagram and Facebook Page, and I try the food by myself without getting sponsorship or partnership. It is purely based on my opinions and preferences. No offences.
Cuppage Fried Guo Tiao
The fried kway teow is nice, delicious and fulfilling. They asked if I wanted chilli, and yes, it was with some spiciness on it. It gave a good kick. It is quite rare to be here for lunch too. It is my favourite so far.
Address: 34 Upper Cross St, #01-170, Singapore 050034.
Qinde Portugese Egg Tarts
Qinde Egg Tarts & Pastries at Whampoa Makan Place has a 4.9 Google rating. It surprised me. I checked the reviews, and I quite agreed with some of them.
The bottom of the pastry is soft; I think most are the same unless is pastry is hard-base. To make it crisper, I heated it using an air fryer at 100°c for less than 5 minutes after refrigerating it overnight.
The egg tart's size, I think, is reasonable and standard size. The sweetness is acceptable, less sweet. I hope it can be less sweet some more.
It satisfies my taste, at least.
Address: Blk 90 Whampoa Dr, #01-42, Singapore 320090.
Google link: https://goo.gl/maps/pGWEmgWgqcUcki3T9
L32 Handmade Noodle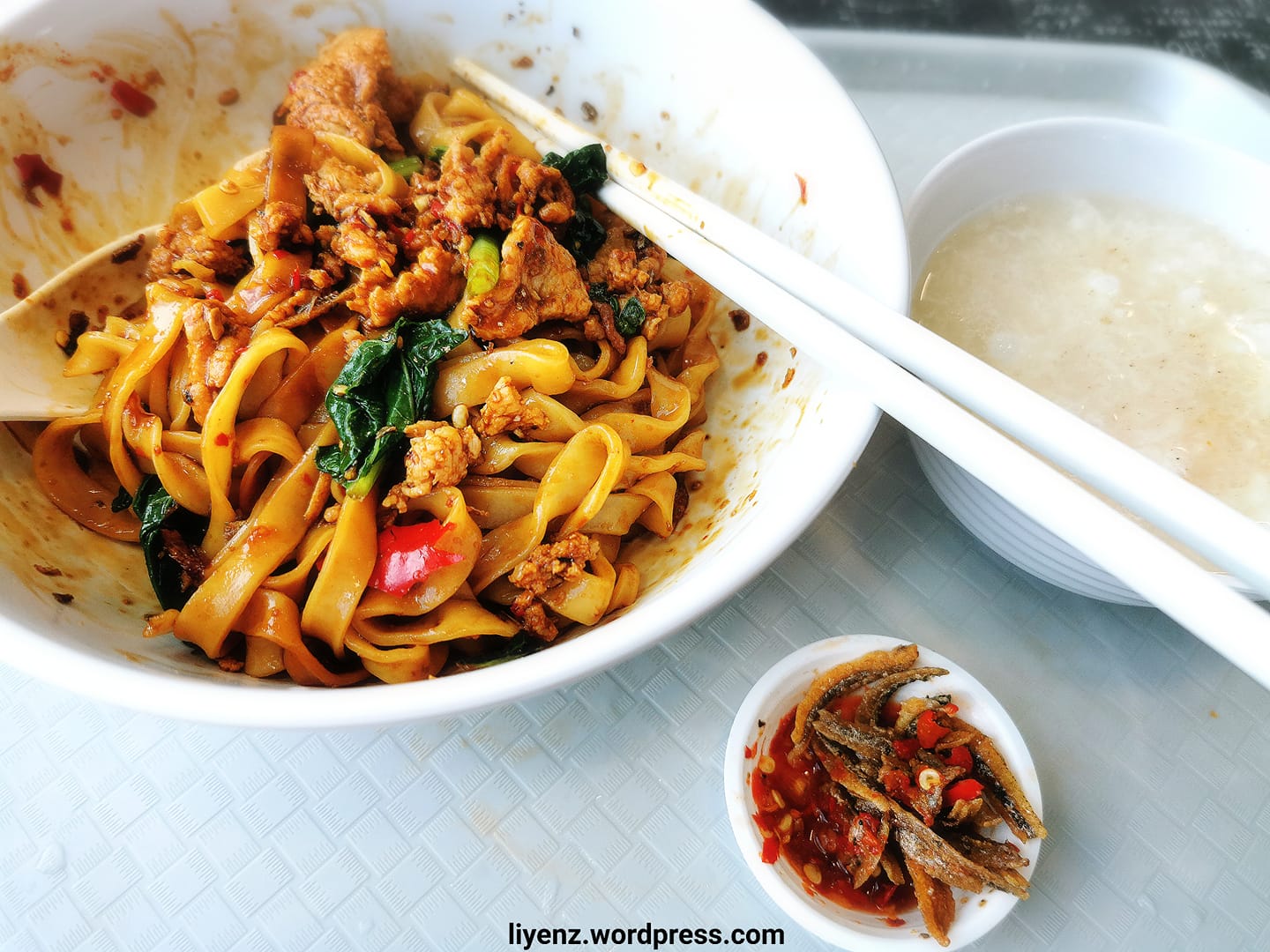 Their signature ban mian cooks in the thick, savoury soup. Usually, I will go for mee hoon kway. You can choose to go with pork, chicken or seafood. I prefer their dry version that comes with a small bowl of soup and an egg inside. If you want the egg to be well cooked, just let them know. The dark sauce dry noodle is not oily, it goes well with their chilli paste, fried anchovies and fried spring onions. The queue for this noodle stall during lunch or dinner time can be quite long.
For takeaway, I opted soup version because the handmade noodle would stick together. The only thing I do not like about the soup version is the fried anchovies turn soggy in the soup.
Address: Food Tempo, 10 Tampines Central 1, #01-60, Singapore 529536.
Google link: https://goo.gl/maps/AUkrTXeLdP6abVqaA
Economic Beehoon Mee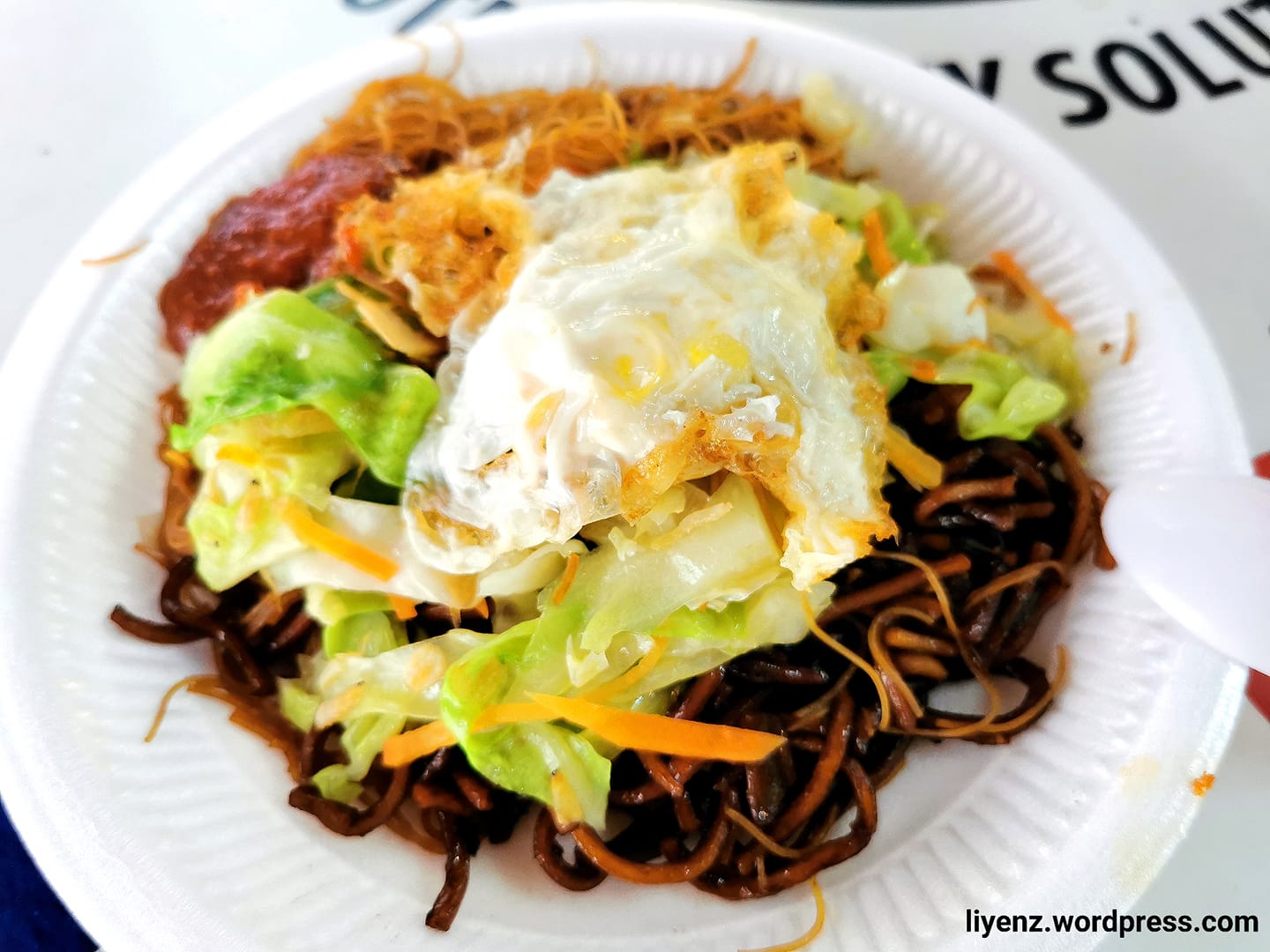 Whether it is a beehoon only or beehoon mee, it is one of my favourites and the most common breakfast options for me every morning. It is conveniently available at any hawker stall or food court in Singapore. Usually, the stalls sell other types of fried noodles too, and it serves with other dishes such as fried eggs, sausages, luncheon meats, fried chicken wings, fish cakes or fish fillets, vegetables and many more.
Everyone has their own preferences when it comes to types of noodles and their ingredients. I had my usual fried egg as the default ingredient along with vegetables or a meat selection. This stall where I usually get my economic fried noodle sells vegetarian goose, one of my favourites. Personally, I think the chilli paste is a sweet-spicy type.
Address: 477 Tampines Street 43, Singapore 520477.
Old World Bah Kut Teh & Fried Porridge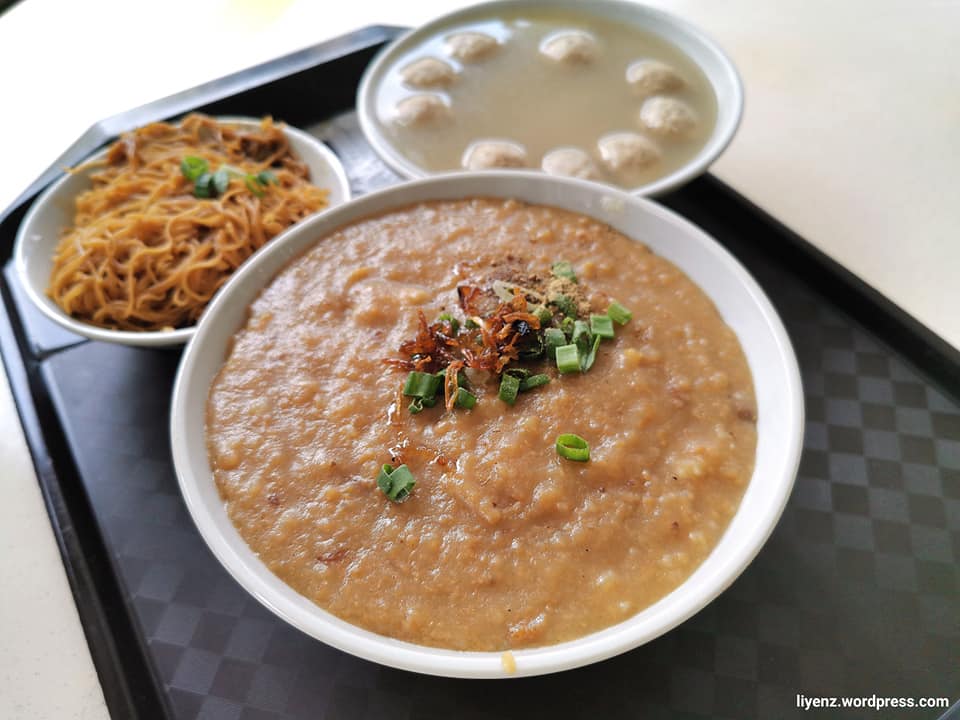 It is sliced pork porridge. The fried porridge is smooth and thick, just like Cantonese porridge. It is my first time trying fried porridge, so it is pretty interesting to see porridge in dark colour. It is a fried porridge, so the porridge is filled with wok hei.
The portion and ingredients are generous, and I added you tiao after getting the food. I dipped it into the porridge. The taste is excellent and flavourful. You tiao is a softer type, so it is easier to absorb the flavour. There is a peppery taste presence; maybe they added too much. The saltiness level is a bit overwhelming, but it is still acceptable. I did not manage to take a photo of you tiao.
I ordered a bowl of plain dry mee sua. There is a strong oyster sauce taste compared to fried shallot oils. The taste is lighter than the fried porridge. It helps to balance both dishes.
Address: 204 Bedok North Street 1, #01-393, Singapore 460204.
Google link: https://g.page/hosay-mee-pok-204-bedok-north?share
Fish Soup At Hong Kong Street Jia Kee Coffeehouse
It is the best fish soup so far in Tampines, and it is worth the money. The coffee shop does not have many seats, and with two-person dining restrictions, I seldom visit this place unless I do not have much work to rush in the afternoon, then I can go for late lunch.
Address: 144 Tampines Street 12, Singapore 521144.
Google link: https://goo.gl/maps/dbnGapP4rC9pmL5y5