Ramen Champion – Shabu shabu promotion, The Central, 6 Eu Tong Sen Street, 03-89, 059817 Singapore. 
When there is a free lunch, people will definitely make their way to attend the event regardless of where they are and what they are doing. It was a word shared by my friend last time. However, I received a different remark when I organized a farewell gathering.
Some ex-colleague gave me a jealousy remark after she has gotten to know the gathering was held days after her last day of service, as though I was the one who decided the date for the farewell gathering. First of all, it is none of her business because she left the company and the gathering was not planned for her too. It was supposed to be held in late April but it was brought forward and I did not think I need to explain more so I ended the conversation with the ex-colleague immediately after the remark.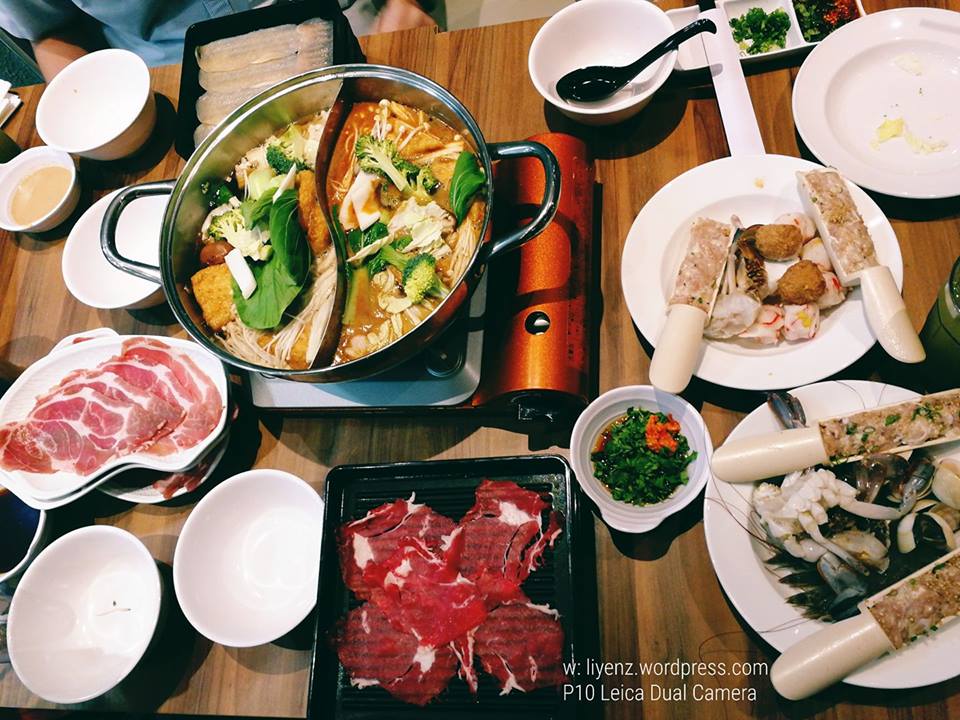 Neither I would control people's jealousy toward us nor how much you want to eat for that night, it was a buffet style shabu shabu in a Japanese ramen shop. If I am not mistaken this restaurant sells quite good ramen too and I ordered a bowl of noodle to try as well during my visit.
Free flow of meats, comprises of chicken, beef and pork of your choices, you can choose your soup base too. My table ordered 6 tray of each meat with other additional seafood ingredients picked from the bar such as clams, crabs and prawns. During my visit, the crabs and prawns are not fresh enough, clams are quite fresh.
Besides meats, they do offer vegetables and various types of mushrooms. They are quite fresh and always replenished by their staff. The drink is not included in the buffet so you have to pay additional cost if you want to get their drink as well. The buffet does not come with desserts means it does not serve ice-cream, something that Sukiya does offer.
Since we are quite large group of people and they have other customers who either went for the shabu shabu or normal meal, sometimes, their services then to be slow and not too attentive to our request for additional meats and noodle, replenish our soup.
Overall, it is worth for the money especially I bought the ticket through fave with discounted price for visit during the weekdays. The wide food varieties and quiet ambiance in the Japanese restaurant make it worth for revisit in the future when they have the same promotion again.