In my most recent food discoveries, I booked the Singtel x HungryGoWhere's offer for a 50% discounts from Sakae Sushi. The offer valids for their collagen hotpot set. From their menu, the chicken collagen soup based costs $10++ and they have other 3 types of soups. For ingredients such as meats and vegetables, there is not many varieties and they do serve selected seafood.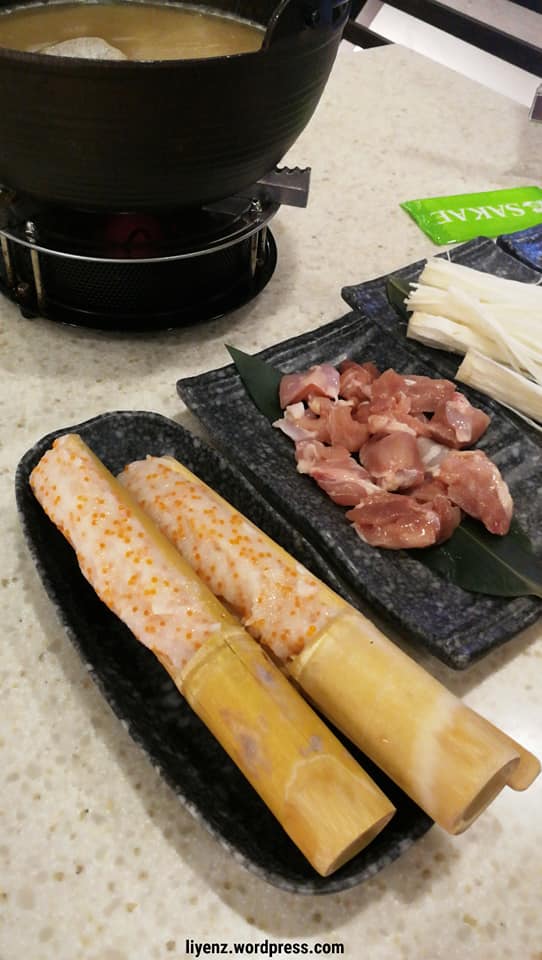 This set meal offers did not allow me to choose any ingredients which include this two fish paste with Tobikko, chicken, tofu and enoki mushroom. Other ingredients, you can order ala-carte from the menu.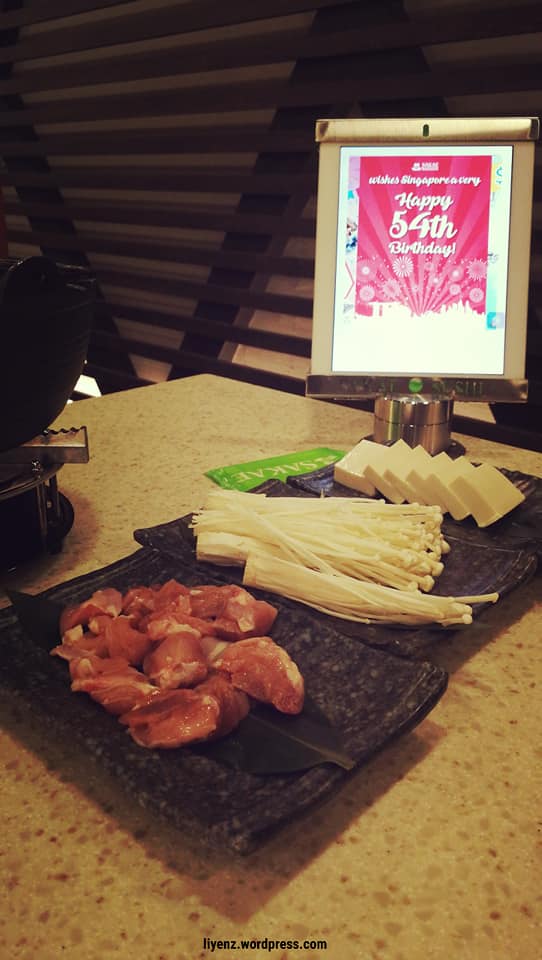 The above pictures are the ingredients of the set meal for myself. I am not too sure that it is a portion of 1 person or two persons. I was having it all by myself for lunch. Their usual price states at the HungryGoWhere's website is $32.50.
Worth for the price?
In my opinion, it depends. If the price is at the 50% discounts, yet it is something worth to try as it is cheaper than any other eat-all-you-can hotpot buffet outside. However, I'm limited to chicken and fish paste which I think it does not cost much.
The chicken cubes are not marinated and tasteless when it cooks with the collagen soup. Yea, what to expect right? The chicken does not go well with wasabi, so the only sauce I can dip with the meat is soy sauce. There is no ways to find chili padi or chili paste in a Japanese restaurant.
Then, the fish paste with Tobikko. Cooking them in the hotpot is fun by making my own fish paste ball into the soup. However, the fish paste tends to be too soft. I guess it is because of not enough real fish paste.
Am I full after that?
Of course, I do! With the whole collagen soup… Sound crazy. Well, I did not finish the whole pot of soup, it is crazy. The soup tends to turn salty when it cooks longer and the mushroom and tofu do filling up my stomach. Therefore, I did not order extra ingredients.
But, I ordered an unagi sushi from their menu. It costs $4.39++. Each different sushi is differentiated by coloured plate.
The unagi sushi is served by one of their waiters instead of delivered by the "little train" on top of the sushi belt. It looks perfectly stunning on the plate with my background and a small drop of teriyaki sauce on the plate.
How does it taste?
Unagi itself with the Japanese rice are good, just too much sauce. I think, it would be great to go without the extra sauce too because everything turns to be quite savoury. I ate this before began my hotpot.
Generally dining experience was good, quiet corner and private. The taste of the food maybe need to adjust a little bit. Their hot or cold green tea are not free of charge and they charged at different price for hot and cold green tea. Other than that, they do serve other drinks and alcohol.
I still find it weird to have hotpot next to the sushi belt, although, at the other side of the restaurant, I can see someone having their teppanyaki.
Address: 80 Marine Parade Rd, #B1-84B C Parkway Parade, Singapore 449269.