It was recommended by few bloggers and some ex colleagues worked at Jurong East before this. I didn't manage to try with them when I went over to Jurong East. It is getting rare for me to travel to Jurong East lately and recently, I took a trip down to the West to work on something. I went to search for the hawker centre where this Thai wanton mee is located by myself but got lost after a wrong turning.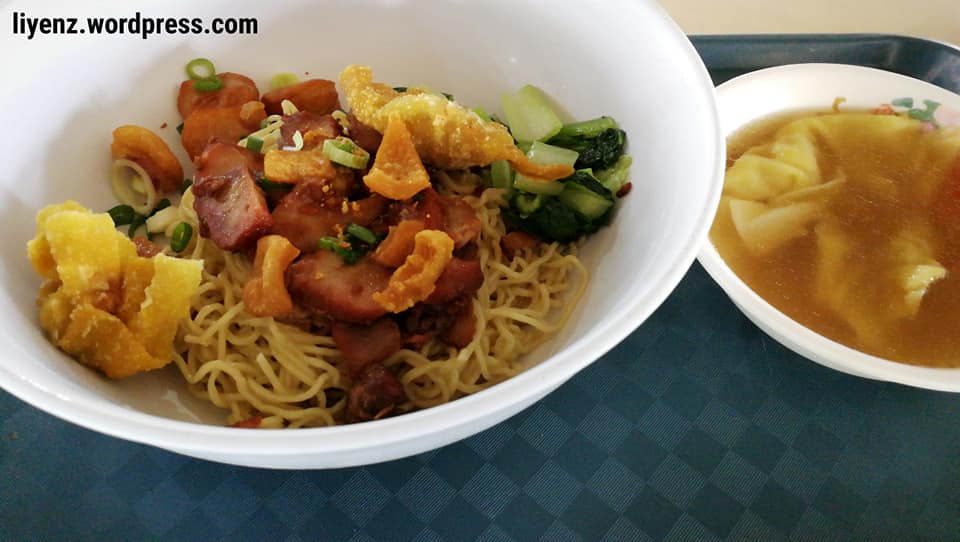 There was no queue at all during my visit at the hawker place around 2.00PM. It comes with small, regular and large size. I chose the regular sized noodle. It is dry, springy noodle and didn't have any sauce on it, yet I managed to mix all the ingredients together.
The portion of $5 for regular which is said to be extra ingredients didn't seem to be a lot, maybe it has more sliced of char siew or more wanton inside the little bowl of soup, there are two dumplings. It has Chinese sausage and two fried dumplings. That is all for a regular.
The noodle is good and delicious even it does not have sauce on it. Maybe it is already tossed with some special sauce beforehand. Their soup is very salty, they should tone down the taste. I did try to enjoy each strand of noodles and paired it with the ingredients to find out the reasons why people liked it so much and itt is so good that famous Thai wanton noodle bar SabX2 in Bangkok has put up a sign stating they are not affiliated.
Personal opinion, I will not think it is a Thai wanton mee that one must try or even travel far to try it. It has few branches, Jurong East, Ang Mo Kio and Kovan. I probably will give it a miss if there is a queue for this stall.
Address: Soi 19 Thai Wanton Mee, 130 Jurong Gateway Rd, #01-211, Singapore 600130