It has been a while back I wrote about Python Introduction I, II and III. Today, I am going to complete the last part of the introduction, the NumPy. Months ago during my Python's self-learning time, I wrote about NumPy, here is the link.
NumPy
It is an alternative to Python List, the NumPy array helps us to solve problems dealing with Python List's operations. Calculations on Python Lists cannot be done in the same way we do for two integers or strings. This package needs to be installed before we can import and use it.
In my blog above, I wrote about the behaviour of the NumPy Array. It does not allow different types of elements in the array. When a NumPy Array is built, element's data type changed to end up with a homogeneous list. Supposed, the list contains a string, number and Boolean, now it changes to all string format, for an example.
Also, the operator "+", "-" and etc which we used along with Python List, are different in NumPy Array. Refer below for an example:

py_list = [1,2,3]
numpy_array = np.array([1,2,3])
py_list + py_list 
numpy_array + numpy_array

First output shows the two lists are merged or combined together into a single list. Second output shows an array returns an output of addition of those numbers. The screenshot below shows the result which I used Jupyter Notebook to execute.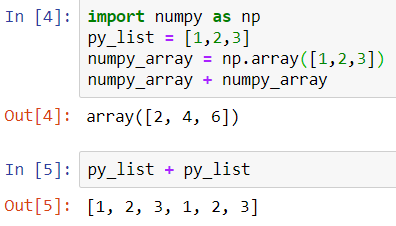 Whatever that it has covered in the link above is good enough to give us a basic understanding of Numpy. If you wish to learn more, there is another link I found from the Medium which we can refer to.
NumPy Subsetting
Specifically for NumPy, there is a way of doing list subsetting, using an array of Boolean. Example below shows how we can get all the BMI values above 23. Refer to the example from DataCamp,

First result returns as Boolean, True if BMI value is above 23. Then, you can use this Boolean array inside a square bracket to do the subsetting. When the Boolean's value is True, it selects its value.
In short, it is using the result of the comparison to make a selection of data.
2D NumPy Array
I covered the 2D NumPy Array in this link, where it shows how to declare a 2D NumPy Array and how does it work in subsetting, indexing, slicing and perform math operations.
NumPy: Basic Statistics
You can generate summary statistics of the data using NumPy. Python NumPy has few useful statistical functions which can be used for analytics. It includes finding min, max, average, standard deviation, variance and etc. from a given elements in the array. Refer to my write up on this basic statistics in this link.