During this circuit breaker period in Singapore, many of us are trying our hand to do some home-cooked food for the family. And, I am trying to improve my cooking skill too. There is a lot of recipes being shared by people since I joined the home-cooked Facebook group.
Thai cuisine
In this article, I am sharing my experience cooking the Thai food called Pad Woonsen, a Thai fried glass noodle. I followed the recipe from Marion's Kitchen, refer below for the recipe's link. She is one of my favourite chefs.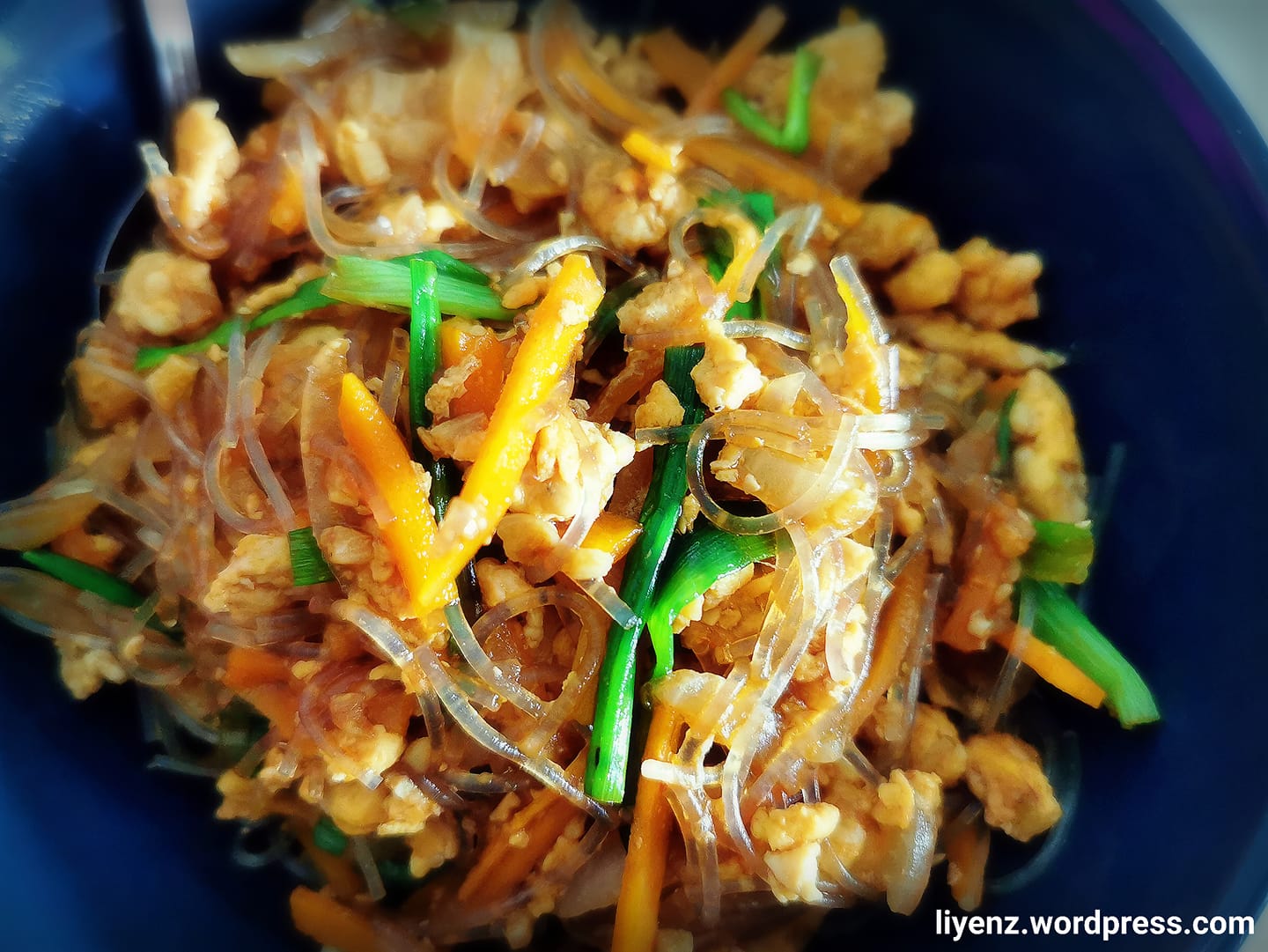 Ingredients
I used the chicken meat, cut into small cubes, and marinated it with salt and pepper. I would recommend marinating the meat for at least 30 minutes before cooking. Then, I sliced an onion, shredded a carrot, and chopped some garlic cloves. Also, I prepared an egg and some spring onions that use for garnishing. On the other hand, I soaked a bunch of glass noodle into warm-hot water, not boiling water for about 8 to 10 minutes until it tendered. Drain the water and set it aside for cooking later. Before I started cooking, I made the stir-fry sauce which consisted of some oyster sauce, 2 tablespoons (tbsp) of fish sauce (* essential ingredient) and a bit of dark soy sauce (the thicker type of soy sauce). You may want to adjust the among of oyster sauce based on your tastebud. Now, we are ready for cooking.
Start Cooking
It started with stir-frying the garlic and onions for about a minute until it was fragrant. Then, I added the marinated chicken meat and stir-fried together with onions and garlic for another few minutes, until the chicken meat well-cooked. I like cooking the garlic along with the chicken meat because I want the chicken meat absorbs the garlic's aroma while cooking. Next ingredient was putting in the carrots to stir-fry before adding the egg into the middle of the pan. As per suggested, I spread the egg out and allowed them to set before breaking them up and tossing them thoroughly with the rest of the ingredients. Lastly, I added the glass noodle and the sauce, stirred until well mixed. You can cut the glass noodle into the small threads before putting it into the pan because it is easier to toss them together. You can further adjust the taste by adding some salt, pepper or sugar.
Before off the fire, I garnished the glass noodle with some chopped spring onions. For this spring onions, I cut them into about 3 centimetres long. I got a colourful pad woonsen served hot in my bowl.
My verdict
The overall taste of the glass noodle was good, I controlled the saltiness level of the stir-frying sauce that consisted of the fish sauce and oyster sauce. You can try to follow this recipe below.
References: https://www.marionskitchen.com/pad-woonsen/