With my usual lunch buddies, we went to try the lunch meals at Two Bakers at Horne Road, Singapore after the January's pay was in. A colleague and myself loved to visit this cafe for desserts, their cakes are impressive and some of them are pretty nice and tasted well.

It was not crowded on the day we visited the cafe and we were sitting at the last table of the back of the restaurant. The table is brightly lighted up with natural sunlight, I did not take any pictures while sitting at this table, to show you all. However, I can tell you, the place is quiet, bright and it is a good place for instagramable pictures, but it faces the kitchen, so it is a little messy in a way.

Back to the food I ordered under the Lunch Menu on that day was the Big Island Soba Bowl. It consists of cold soba, a small piece of pan fried salmon, few pieces of tuna, corns and edamames as vegetables and a poached egg on top. It sauces with avocado sauce and Japanese sesame sauce.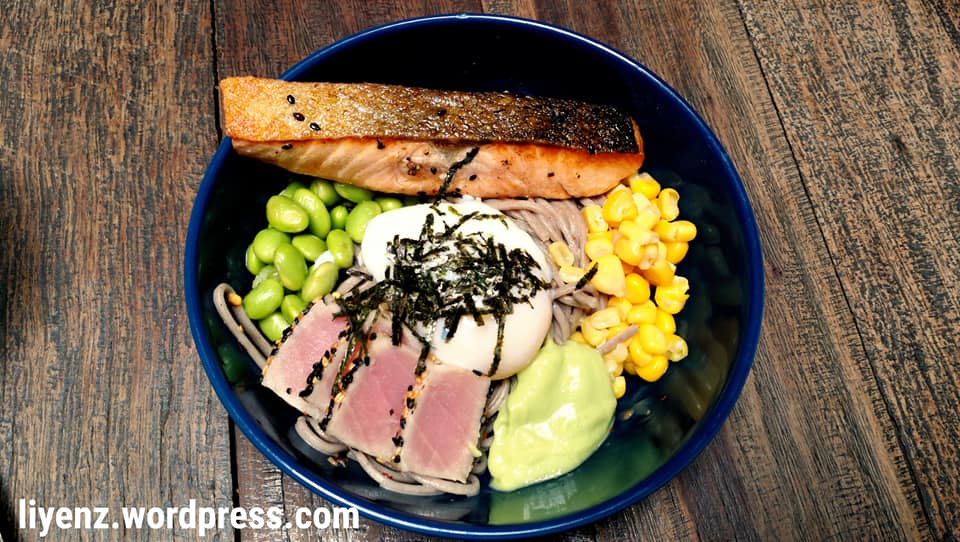 Initially I did not mix the sesame sauce at the bottom of the bowl, I just mixed the soba with some avocado sauce. It tasted plain, of course. It is recommended to mix well with the sauce and nicely break the poached egg on top of the soba. By just having the sesame sauce toward the end of the meal would make the soba tasted salty.

The salmon and tuna are good, well tasted and nicely presented, but the tuna was quite salty. The salt and pepper seemed to be too much on the thinly sliced tuna.

And the rest are pretty healthy ingredients, the edamame and corns.

It is a simple and healthy dish but need to reduce the saltiness level to make it more balanced.

After the meals, we ordered two pieces of cakes, the Yuzu Lemon Tart and the Matcha Passionfruit. I will share these cakes in my next blog. I guess it is good to stop visiting Two Bakers for a while and wait for the new menu for desserts. I am looking forward to see and try their new creative creations.

Address: 88 Horne Road, Singapore 209083.